5 Months of Free Internet Connection
for those who apply with Wireless Lan Package
3 Months of Free Internet Connection
for those who apply without Wireeless Lan Package
<NON-NTT USER TYPE>

The whole process usually takes 4-5 weeks.
Visit Yahoo!BB Invitation Program Page and fill out the application form. (The application has to be made through this special website, otherwide this special promotion will not apply)
Yahoo!BB sends you a form to attach a copy of your ID. One of the following IDs should be submitted.
__Japanese Driver's License
__Japanese Insurance Card
__Japanese Passport
__Residence Registry Card
__Alien Registration Card
Yahoo BB sends you a letter indicating the installation date.
An NTT worker visits your house to install your Yahoo BB line. You have to stay home on that day.
You will receive a modem on the connection day.
Connect the modem and enjoy the Internet.
Before filing an application:
Please read and fully understand the terms and conditions. If you do not understand Japanese, make sure to obtain an assistance from one of your Japanese friends.

Visit Yahoo! Japan Invitation Program Page









Read the terms and conditions. Check "I agree" and click the button to proceed.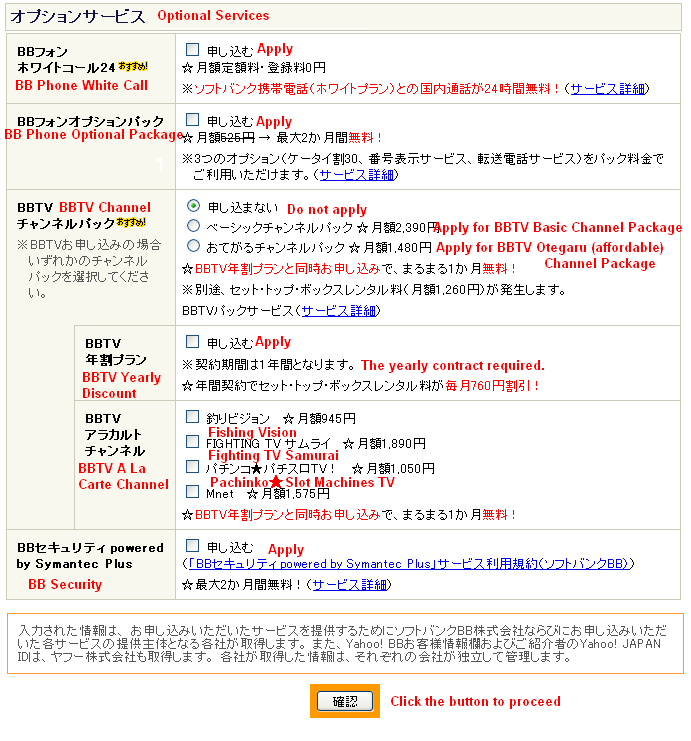 The confirmation screen appears. Confirm the information you entered and click the left button on the bottom of the page







---