5 Months of Free Internet Connection
for those who apply with Wireless Lan Package
3 Months of Free Internet Connection
for those who apply without Wireeless Lan Package
The whole process usually takes 6-8 business days.

Visit Yahoo!BB Invitation Program Page and fill out the application form (The application has to be made through this special website, otherwide this special promotion will not apply)
Yahoo BB sends you a letter indicating the connection date. The connection is done within the NTT telephone exchange.
You will receive a modem by a courier express.
Connect the modem and enjoy the Internet.

Before filing an application:
Please read and fully understand the terms and conditions. If you do not understand Japanese, make sure to get assistance from somebody.

Instruction for filling out the form (NTT User Type)
Visit Yahoo! BB Invitation Program Page

Select either you are applying for Wireless Lan Package or not.

Enter your NTT phone number and click the button to proceed.


Select an Internet Speed.




Read the terms and conditions. Tick "I agree" and click the button to proceed.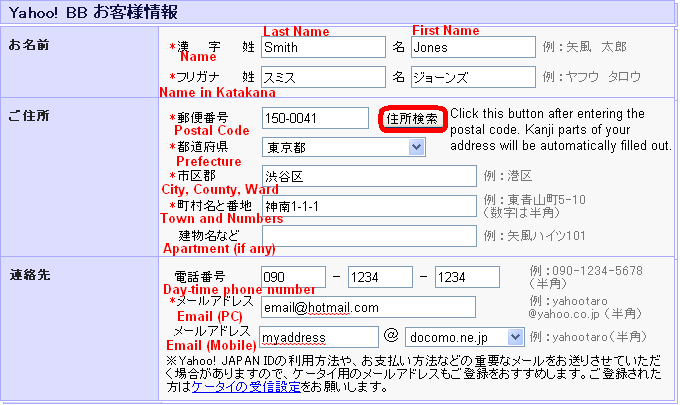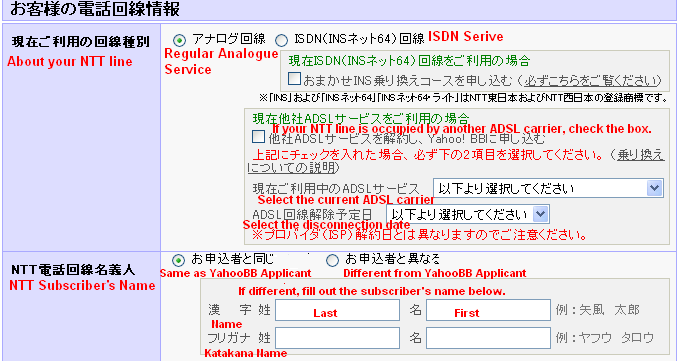 NTT subscriber's name (MEIGININ) IMPORTANT!!
Yahoo BB uses NTT telephone network to provide the Internet service. However, NTT refuses to connect Yahoo BB line if the subscription holder's name is not correct. If you don't know the name, call NTT English support center 0120-364-463 (Mon-Fri 9am-5pm) and find it out. Applications with even a tiny spelling error or wrong order of names will ends up in unsuccessful application. So make sure to obtain the EXACT SPELLING of the subscription holder's name to avoid unnecessary delay of processing your application.

If you are using another ADSL:
If you are switching from another ADSL carrier, you can specify the disconnection date here. If the date is more than 12 business days away (excluding Sat, Sun and Holidays), Yahoo! BB usually connect their ADSL on the same day. If the disconnection day has not been decided yet, leave this section as it is and notify Yahoo!BB later.

Note: Internet Service Provider(ISP) and ADSL carrier are usually different. ISPs usually use one of the major ADSL wholesalers indicated below.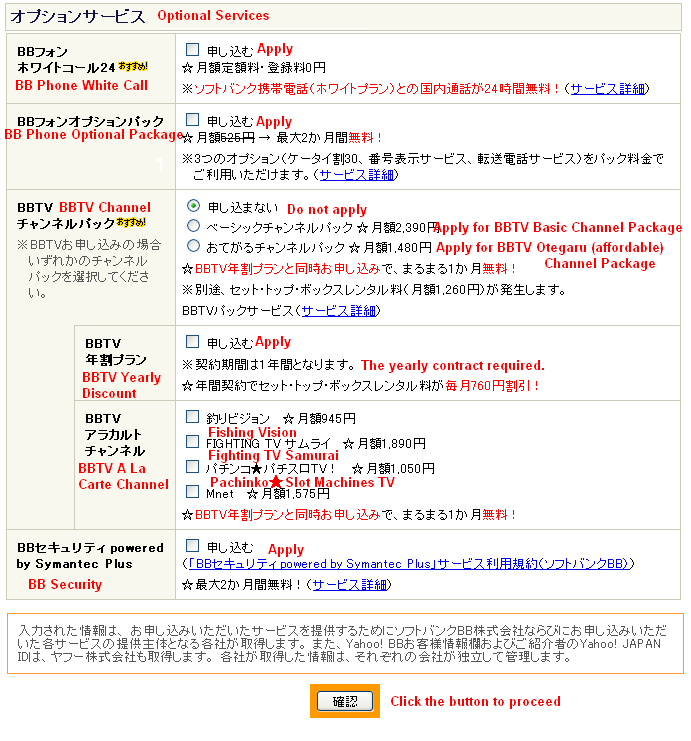 The confirmation screen appears. Confirm the information you entered and click the left button on the bottom of the page







---